Paragon Pinball fully playing, has NVRAM on MPU (no more batteries) Nice cab with Vibrant Colors. Some light wear on playfield. overall a very nice example.
For sale is a very nice Gottlieb Premier Barb Wire Pinball. Barb Wire was the last game that was made by Gottlieb before closing their doors. 1000 total examples were produced which makes this particular pinball highly collectible. Aside from all this, it is themed from Pamela Andersons Barbwire film. Game features full LED lighting and is fully playing.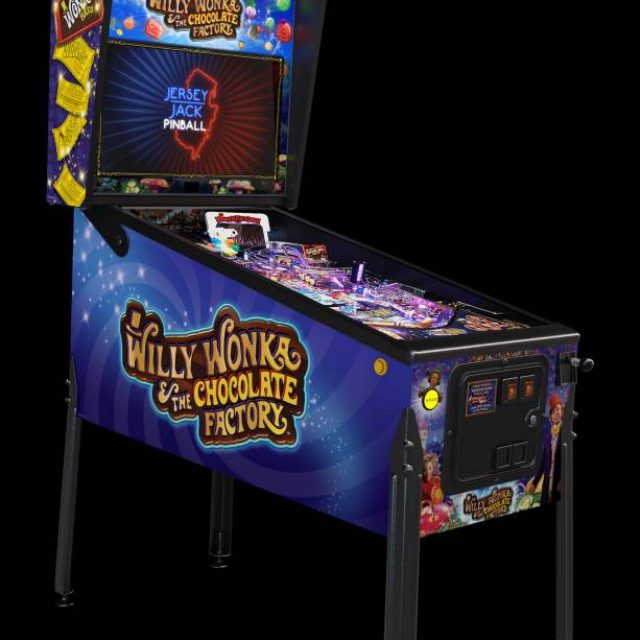 Willy Wonka & The Chocolate Factory SE Pinball
The 5th release from Jersey Jack Pinball
Is Willy Wonka and the Chocolate Factory.
Available in 3 trim Levels.
Standard Edition Features:
Black Wrinkle cabinet armor and legs
Stainless wireforms
Standard cabinet art
Standard backglass
High gloss UV ink decals
Standard cabinet glass
All models of Willy Wonka and the Chocolate Factory™ pinball include:
Four flippers
Six balls
Captive ball
Seven magnets
The Everlasting Gobstopper™
The Most Secret Machine™
Oompa Loompa™ camera sculpture
7" Wonkavision™ LCD
27" HD LCD screen with interactive 3D animations
Candy-colored LED light shows
Gameplay features:
Four multiballs
Collecting Wonka Bars™
Spelling Scrumdiddlyumptious™
Touring Wonka's Factory™
Three wizard modes, including Pure Imagination™
Scenes and dialogue from the original film
On Tilt Pinball Is an Authorized JJP distributor. All games are new in box and come with full factory warranty. Delivery and Setup available.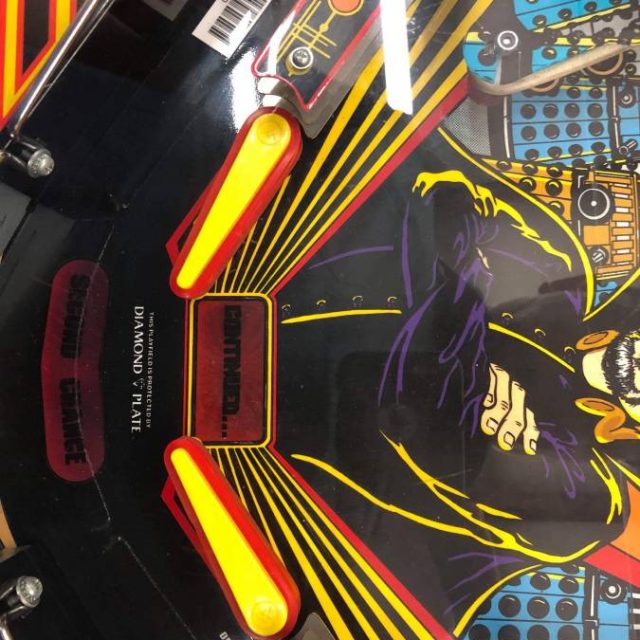 Doctor Who Pinball fully loaded!
A beautiful example of The Doctor Who Pinball by Bally. Bally's Doctor Who is themed upon the British sci-fi television serial which has been in production since 1963. The game itself features the first seven "Doctors" who appeared in the title role–each Doctor is associated with a different playfield scoring feature and can be selected by the player throughout game progression. The main feature of the game is the Time Expander unit, a moving mechanism with different levels where players are challenged to lock balls and collect targets, leading up to the game's main multi-ball mode. A Dalek topper and the show's trademark blue "Police Box" on the lower right of the playfield round out the unique "Whovian" traits that appear in this game.
****COLORDMD, PINSOUND BOARD, MOVING DALEK TOPPER ADD$900****
This particular Pinball features:
New Cabinet Art
Powder Coat Blue Trim
Full LED lighting
Full Cliffy Protectors
ColorDMD
Moving Dalek Topper
Pinsound Board
Upgraded Pinsound Speaker System
Highly Collectible and ready to be added to your home collection or game room today.